About Us
Head To Toe International Beauty College offers beauty therapy aesthetics, professional makeup, and professional nail art courses and services to create a beautiful new world with professionalism and excellence.
What We Offer
At HTT International Beauty College, hands-on skills and theoretical knowledge are equally emphasised in getting students ready as professional beauty and aesthetic practitioners.
Students are given theoretical assessments and practical trainings in aesthetic therapies procedures to ensure students are well-prepared and confident in performing aesthetic procedures and operating a beauty and aesthetic business.

Professional Guidance
Students are guided by a team of professional aestheticians whom have more than 20 years of experience in the beauty industry.

PTPK Loan
Courses offered are eligible and approved by PTPK for loan assistance.

Sponsorship
Financial assistance is available for students. Terms and conditions apply.

International Accreditation
Courses are accredited and certified by CIDESCO and JPK Malaysia.

Job Security After Graduation
HTT Beauty Academy's various collaborations and close network with various beauty and aesthetic companies across Malaysia will ensure that students are guaranteed a job after completing their studies.

Be Your Own Boss
Once graduated, students will be equipped with the knowledge and experience needed to start their own beauty salons.
Why Head To Toe International Beauty College?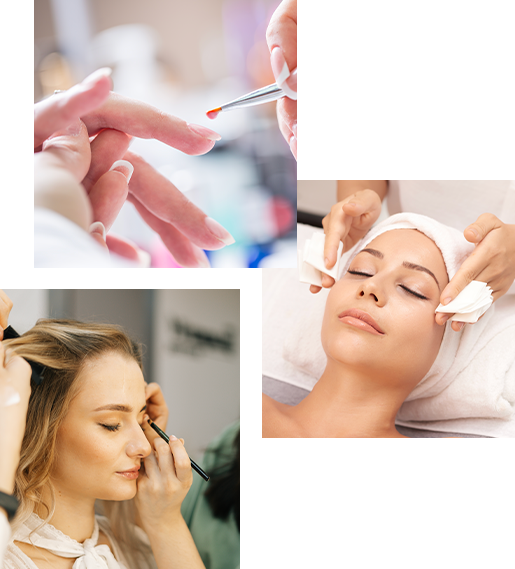 Curriculum
Head To Toe International Beauty College is listed as one of CIDESCO's schools. Comité International d'Esthétique et de Cosmétologie, also known as CIDESCO, is renowned as the world standard for Beauty and Spa Therapy. Established for more than 70 years, CIDESCO has continually prove themselves n in providing quality education and prestigious qualification to its students. It offers memberships to students and institutions that are credible and qualified to be part of its membership.
Assessment & Learning
We customise our teachings to the developing needs of our students. We foster motivation and guide students to thrive and improve, so that they may progress better and further by utilising their own knowledge and skills to their maximum potential and ability.
Facilities
Head To Toe International Beauty College provides academic facilities that allow hands-on training, in order to equip students with the proper experience to put to practice what they have learnt in their theory classes. Conducive facilities are imperative to promote positive learning, discussion, and participation amongst students.
View our courses
Kickstart your beauty career with HTT today!
Join HTT International Beauty College and learn the fundamentals of Beauty & Aesthetics theories from expert and experienced beauty professionals. Our courses also cover intesive hands-on lessons and practical assignments to equip students with skills required to provide quality services and care.
Sign up now